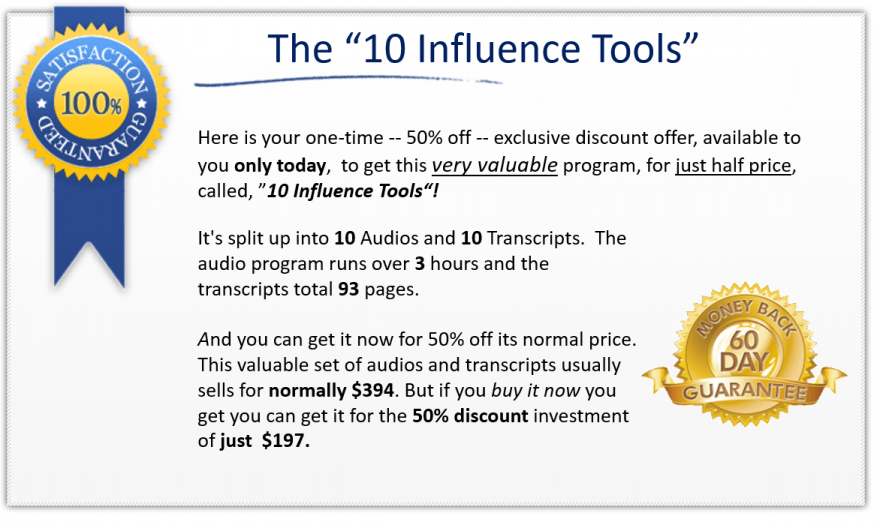 Need more information?
Go on . . . admit it!
You want to influence more people more often.
How do I know?
Who doesn't?
Influence is simply part of life. Everyone -- including you -- must influence and persuade to get what you want and need in life.
Whether it's your child, spouse, boss, a sales prospect, a dating prospect, or the masses, you need to increase your persuasiveness to live the life you want.
The question is not whether you need to influence, the question is whether you will do it well; whether you will do it successfully; whether you will do it consistently; with integrity; for your own good and for the good of those you care about.
You're probably already very good at it.
BUT, the fact is, until and unless you master the "10 Influence Tools," you're simply not as influential and persuasive as you can be -- yet.
There's no way you could be -- yet -- until you master these "10 Influence Tools."
And how can you master them until you learn what they are?
There is no other way to learn what they are, and to learn how to use them, until you take advantage of this one-time, exclusive offer!
All of the most masterful persuaders use these tools. We know because that's where we found them: by modeling the greatest persuaders in history, both past and present.
Whether your goal is to persuade people in one-on-one conversations, in small groups, speaking to large audiences, or writing, video, or audio, when you buy and consume these "10 Influence Tools," you will become known as a most masterful and influential persuader.
Just imagine how your life and prosperity will improve after you have mastered these "10 Influential Tools"!
Invest in Your Own Personal and Professional Development and
Start Persuading Others Today!
Influence Tool #1 -- In this audio you will learn structures of language that you can use in normal, everyday conversation and writing to become more powerfully persuasive than ever before. These persuasive language patterns were originally discovered and codified by one of the most famous psychiatrist and psychologist who ever lived. He used them to speak to people's unconscious minds to lead them to overcome both medical and psychological illnesses. These linguistic patterns have since been studied, further refined, and updated in this lesson for even more powerful conversational influence and persuasion.

Influence Tool #2 -- You'll find this one simple tool to be particularly powerful. It is used by the most persuasive speakers and the most charismatic conversationalists as an every day tool. It can be used in seconds to completely change any conversational dynamic and create dramatic, powerful, lasting results. It immediately opens up the door to people's unconscious and subconscious minds, blasts pasts conscious resistance and critical barriers, and allows you to get in the driver's seat, take control of an interaction, and really get your message across.

Influence

Tool #3

-- This one can be the most powerfully persuasive tool you have available. Use it right and you'll find that no matter how badly you may mess up using the other tools, you will still confidently deliver a persuasive message and people will still respond to you the way you want them to. Use it wrongly and you'll find that no matter what you say, it will not be heard, understood, and acted upon the way you want it to.

Influence Tool #4

-- This audio will teach you an influence tool that is so powerful, you will be able to use it to change minds, emotions, beliefs, actions, behaviors and habits, and even to change someone's identity. Master this one tool and you will a master of influence!

Influence Tool #5 -- When you learn and use this tool, you will immediately gain a position of strength, a position of power. This tool will help you control your own reactions and emotions, and thereby put you in control of the situation. This one can be used in any situation but is especially powerful when you are speaking in front of an audience.

Influence Tool #6 -- This tool is as close to mind reading as you can get. When you learn this one, you will be able to instantly and completely know where the other person is coming from. Then, by knowing that, you will be able to persuade the other person to do what is in his or her best interest.

Influence Tool #7 -- In this lesson you will learn the six, scientifically proven hot buttons that will create instant action. Use any one of these hot buttons separately and you will substantially increase your persuasiveness. Use them together and you will increase your persuasiveness dramatically.

Influence Tool #8 -- I'm particularly excited about this tool because it is at the core of influence and persuasion. When you learn this tool, you will be able to manage the other person's "reality" about a subject or event, and thereby manage their emotions and interactions with it.

Influence Tool #9 -- This tool will be one of the most important things you learn on your journey toward mastery influence and persuasion. That's because when you learn this one tool, you will be able to quickly lead the other person right into the state of mind that you want them to have so that they will accept your ideas.

Influence Tool #10 -- In this final lesson, you will learn how to integrate all of these tools out there in the real world to become the most influential and persuasive person you can be, and to achieve real results..
If you are not by now completely convinced that the "10 Influential Tools" are right for you, then I encourage you to imagine how your life will be more successful, prosperous, and happy, when you invest in yourself today and learn these powerful tools.
| | |
| --- | --- |
| | These 10 power-packed tools also come with a 60-Day Money Back Guarantee! If you are not satisfied that when you have listened to all ten of these tools you will be a more influential and persuasive person, just let me know and I will refund 100% of your investment -- no questions asked! |
| | |
| --- | --- |
| | "Yes! Steve, I want the "10 Influence Tools" for your one-time only offer of half price ($197). By clicking on the "Add-To-Cart" button below, I will place my order for this advanced training" |
Steve Ethridge
Certified NLP Trainer (American Board of Neuro-Linguistic Programming)
Certified NLP Master Coach - Practitioner (American Board of Neuro-Linguistic Programming)
Certified Master Hypnotist (American Board of Hypnotherapy)
TLT Trainer and Master Practitioner (American Board of Time Line Therapy®)